In the PR world, securing interviews with journalists and coverage for clients is the goal of "media relations." This valuable service involves identifying and communicating with the appropriate editors and reporters at relevant media outlets to forge professional rapport, pitch ideas, make introductions, and supply interesting, useful, and credible information.
It may sound fairly straightforward, but as always, the devil is in the details. At Sterling, we are continually researching, collecting data, and analyzing feedback directly from journalists to help inform our media relations approach. Resources like the annual Muck Rack State of Journalism report and Nieman Lab Journalism Predictions can be invaluable for gauging changes in the media landscape, appreciating the demands of journalism workflow, and understanding how reporters might receive a pitch. Some of the recent findings might surprise you.
From a PR perspective, here are our top four surprising findings on the state of journalism in 2023:
1. The average journalist now covers 4 beats
In newsroom lingo, a "beat" is a focus on a particular issue, sector, or subject over time. But the days of deeply embedded specialists who have been covering a particular industry for years are waning. The average reporter is now responsible for four beats (up from three in 2021). That's an awfully big leap! What does this mean for media relations and pitching? First, PR pros now have to be prepared to educate reporters on the topics we want them to cover. Reporters will often need more help understanding market context or new technology and how it fits into the bigger picture. On the plus side, if a client subject matter expert can serve that role, they may just become a reliable source that the reporter returns to repeatedly. It also presents an opportunity to get creative about how our client's stories relate to journalist beats or an outlet's expanding coverage areas. For example, our team recently scored a feature for battery manufacturer Sakuu in renowned automotive journal MotorTrend by helping connect the dots between innovative battery production and the future of electric vehicles — two areas of growing interest at the publication.
2. Journalists now prefer on-camera versus phone interviews
Pre-Covid, video calls on Zoom and other on-camera apps weren't very common for journalist interviews — standard phone calls and even in-person conversations were the norm. The pandemic shutdown forced a technological shift that now effectively means anyone is capable of taking a video call. But is that what reporters now prefer? Our team wasn't so sure until we attended a SXSW journalism panel this year discussing what reporters are doing to combat rising disinformation in news gathering. One such precaution? Video call interviews, which allow the journalist to visually verify who they're actually talking to. With this in mind, we'll be encouraging our spokespeople to offer to appear on camera in interviews whenever possible moving forward. Speaking of disinformation and credibility…
3. Fewer journalists find CEOs to be credible sources
"Trust" was a hot topic in NiemanLab's annual survey of media professionals. And according to the current Muck Rack State of Journalism report, just 62% of journalists find CEOs to be a credible news source — a 12% drop from the year prior. This rising skepticism means public relations pros need to proactively help validate what client CEOs are saying with data points, third-party studies, white papers, and other credible assets. Even a high quality image of a product or data from internal testing and research can help bolster a CEO's authority with a journalist, and working with clients to gather these assets fortifies pitching efforts.
4. Bad timing fails pitches
Back in the day — that is, before journalists had four beats to cover and the news cycle wasn't hyperactive 24/7 — PR professionals knew better than to pitch a journalist late in the week or late in the day. In 2023, this kind of rigidity in timing seems to be on its way out. The Muck Rack State of Journalism report says that more than half of surveyed journalists don't care what day of the week they're pitched (though most still prefer to receive pitches before noon).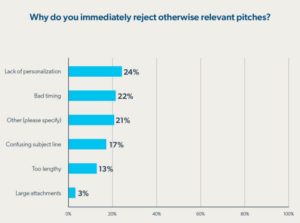 Source: Muck Rack State of Journalism report 2023.
However, in a question about why reporters reject pitches, "bad timing" is nearly tied for #1 (Sterling personalizes all our pitches, so that other top cause of pitch rejection is moot for our purposes). So what constitutes bad timing? There are a host of possibilities, but here are just a few we've been told about: being pitched too close to a similar, already published story; being pitched during a week the reporter happens to be away; being pitched the day before a big news announcement drops; being pitched while another beat, issue, or event is monopolizing attention. To reach journalists most effectively, our teams consider all the different timing factors that go into why a pitch may fail to connect and how we can best avoid pitfalls.
By continually digesting data and feedback directly from journalists, we continually hone our media relations skills and our ability to successfully pitch stories for our clients so that everyone wins. Journalists get good sources and material for stories. The public gets informed. Clients get notice and recognition. And Sterling gets the satisfaction that comes from a job well done.
Do you have questions about media relations or other PR processes and services? Our team is here to help! Reach out to us at go@sterlingpr.com.